Philadelphia Social Forum presents
a discussion on nonviolent resistance and civil disobedience
<![if !supportEmptyParas]> <![endif]>
The Duty of Civil Disobedience
<![if !supportEmptyParas]> <![endif]>
Sunday January 5, 2PM
<![if !supportEmptyParas]> <![endif]>
At Robinís Book Store, 108 S. 13th Street
<![if !supportEmptyParas]> <![endif]>
<![if !supportEmptyParas]> <![endif]>
<![if !vml]>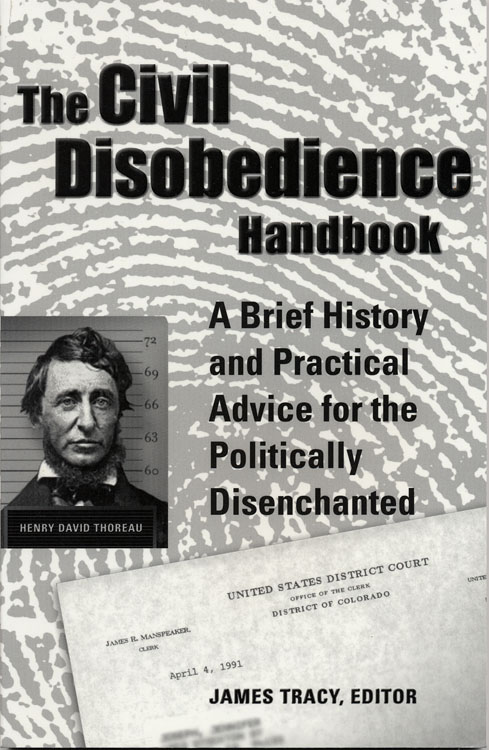 <![endif]>
<![if !supportEmptyParas]> <![endif]>
<![if !supportEmptyParas]> <![endif]>
Non-Violent civil disobedience is an American tradition, an essential element of a working democracy: From The Boston Tea Party and The Bill of Rights to Henry David Thoreauís classic 1849 essay On the Duty of Civil Disobedience; From The Suffragettes and the Labor Movement to the Civil Rights Movement and the Anti-Vietnam War Movement; From Defending a Womenís Right to Choose to Housing Takeovers and Seattle; From the very beginnings of America to Today and Tomorrow. This is a technique that anyone can use to correct any wrong. But it does require training. Come discuss the philosophy and techniques of non-violent resistance and civil disobedience with our panel:
Daniel Hunter, 21, has experience as a nonviolent action trainer in Burma, Thailand, Indonesia, India, Canada, and the U.S.† An African American, he's immersed himself in the work of Martin Luther King and other nonviolent leaders.
George Lakey, 65, is director of Training for Change, author of six books, and has led over 1,000 workshops on five continents.† A European American, his first arrest was in the civil rights movement.† In 2002 he received the 2002 Paul Robeson Award for Social Justice.
Andrew Hopkins is a student at Gratz High School.† He does protests and demonstrations with the Philadelphia Student Union in the ongoing struggle for equality in education for all students.
<![if !supportEmptyParas]> <![endif]>
<![if !supportEmptyParas]> <![endif]>
For Information:
www.robinsbookstore.com
<![if !supportEmptyParas]> <![endif]>